Ilikai Apartment Hotel Condomium Follow
As you arrive you will quickly notice how the open floor plan strikes a balance between cozy and clean, while the trade winds and view breathe life into space!
The world famous Ilikai Apartment Hotel Condominium will welcome you and guarantee your perfect vacation!
Additionally, you will definitely enjoy all of the perks of the Ilikai Hotel building itself, which offers 2 pools, a famous pancake shop, an ice cream shop, and mini shop, all at an affordable price compared to similar hotels in central Waikiki.

Address
1777 Ala Moana Blvd #2108, Honolulu, HI 96815
Check-In and Out Time
Check-in time
Check-in anytime after 3:00 PM. You do not need to check in at the front desk.
Go directly to the room and punch the key code.
Check out time
Check out by 10:00 AM
Management Office in the Condominium
There is a management office in 2nd floor.
Security Office in the Condominium
There is a hotel front desk and security in 1st floor. You may ask them if anything happen.
Parking
No parking
The hotel offers the valet parking for $28/day. Price may vary. There is also a parking structure with a guest discount nearby, as well as public parking.
Laundry
There are coin operated washers and dryers in each floor.
What to Bring
Instruction for Check-in Procedures, Beach Towels, Beach Chairs, Washer Detergent, Salt and Pepper and so on. You may buy most of these in Ala Moana Shopping Center and ABC stores.
Amenities, Activities
Shower or tub, toilet
Ice cream shops, cafe, restaurant

Convenience store

Cable TV, Television, Internet
Air Conditioning, Elevator
Hair Dryer, Linens Provided, Basic Towels Provided
Coffee Maker, Dishes & Utensils, Kitchenette, Microwave, Refrigerator
Walking, surfing, running, biking and so on.
ATM
Ocean View
Balcony, Private Pool
Children welcome, non-smoking only, pets not allowed

Long

-term Renters Welcome
Luxury, Family, Romantic, Sports & Activities, Tourist Attractions
Our Premium Vacation Rental Rooms!!
All Unit has Free WIFI. Free 4 serves of Drip Coffee.

You may check the detail description by clicking each room. You may search for the available date and fees, too!
1. Renovated Modern Ilikai 16th floor Harbor Studio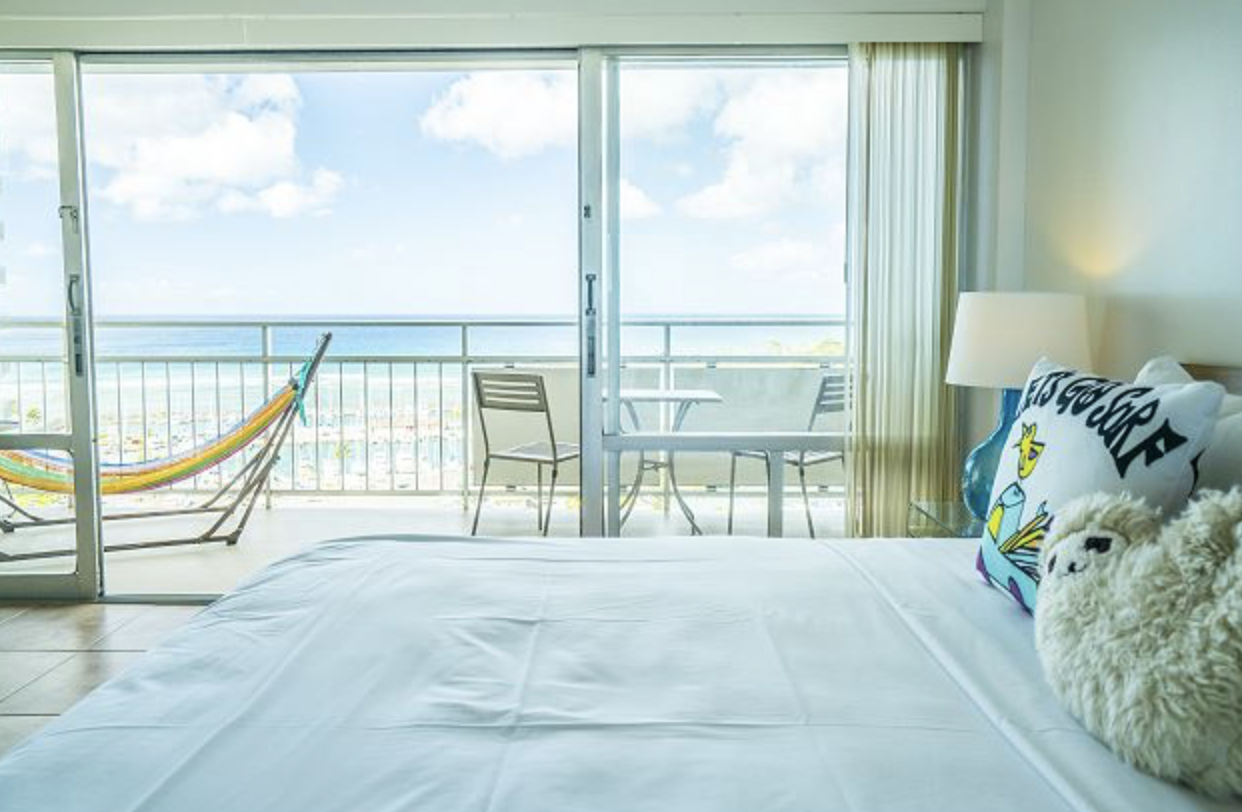 The clean and sleek air of your fully equipped kitchen, complete with beautiful dark cabinetry and a breakfast bar is made for your friends and family gatherings.
studio with full kitchen, nearly panoramic windows and a balcony

1 king, 1 sleeper
View: Sunset and Ocean
Maximum Number of Guests: 3
Minimum Length of Stay: 2 Nights
1 Bathroom
500 ft2
2. Luxurious room with Excellent Ocean and Sunset View!!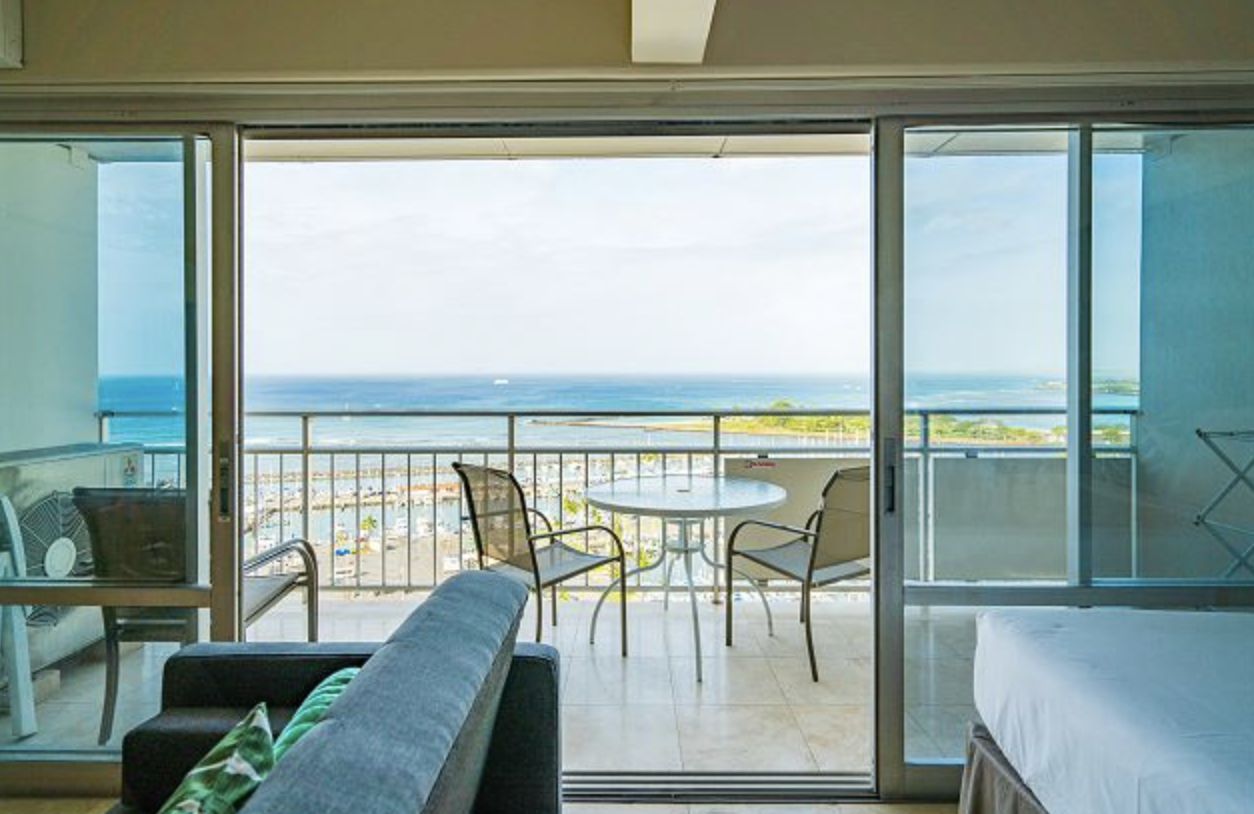 After a day full of fun exploring Waikiki, you will appreciate the comfy full beds in the condo to finally enjoy your well-deserved sleep.
full kitchen

Floor

21

Elevator

Yes
500 ft2

Beds

1 Sleeper, 2 Double/Full Bed
3. Great Ocean, Lagoon, and Firework View!
Floor

17

Elevator

Yes

Bathroom

1
500 ft2

Beds

1 Sleeper, 2 Double/Full Bed
Entertainment
★Ala Moana Shopping Center
Just within 5 minutes walk!! The largest shopping mall in Hawaii. You may dine and shop in the world-famous stores.
https://www.alamoanacenter.com/en.html
★Ala Moana Beach Park
Just 5 minutes walk from your room.
Free self-parking in the Ala Moana Beach Park parking lot.
Restaurant
Many affordable restaurants and eatery. Enjoy $1 beer in Shirokiya Japan Village inside the Ala Moana Shopping Center.
Famous Chicago Steak in the moody atmosphere!!
There is a steakhouse in the top of Ala Moana Hotel Condominium. Enjoy the delicious steak with the magnificent view!!
Authentic Italian with the affordable price.
●Rinka (Japanese)
Enjoy Affordable Authentic Japanese Foods!
●Katsumidori (Japanese Sushi)
Affordable Sushi! Just about 2 minutes walk from Ala Moana Hotel Condominium
https://www.yelp.com/biz/katsumidori-sushi-honolulu
●Goma Tei (Japanese Ramen)
Our Request to You
We would appreciate it if you understand these to enjoy the vacation in this condominium.
We make the price very low compared to other hotels and vacation rentals. We want you to stay long and enjoy Hawaii more. Please understand we will provide the best service as well as basic supplies; however, we are not hotel. We try our best within the room rate we have received from you and sometimes we cannot provide the service like hotel. For example, when you check in, please find the condominium and check in by yourself. We will not be able to help the check in. Sorry.. but we will make the room rate low.
- Enjoy your Vacation in Hawaii
TO ALL GUESTS REGARDING DRAIN LINES, TOILETS, AND SEWER LINES. Be very careful of what you flush down the toilet and send down the drains. Recently, our drain lines have been burdened with many items that should never be flushed down any toilet. We all know the basic no-no's of what not to flush, but these latest items are entirely avoidable and causing much damage, such as scouring pads, diapers, large numbers of wipes and even a soda can!
Things to know.
*Please read all of our terms and conditions before making a reservation. In the case that you do not understand our terms and conditions, or do not want to purchase the CSA damage protection fee or the deposit waiver, please do not reserve a vacation rental with Lei Hawaii Realty Inc.
*Persons over the age of 21 must make the vacation rental reservations, and are required to be present during the stay.
*All rentals between December 22 and January 2 must be reserved for a minimum of 4 nights unless there is already a gap of less than 4 nights.
*No pets are allowed. As an allergy precaution, if any service animals will be accompanying you, we will need to be notified beforehand. If you fail to notify us, your reservation will be canceled. If we become aware of an unauthorized pet after your stay, additional cleaning fees will be charged as compensation.
*Construction and maintenance on the property are a possibility. If this is the case during your reservation, access to the pool, landlady, and other amenities may be limited or restricted. Lei Hawaii Realty Inc. is not responsible for and will not compensate for these circumstances.
Things to know. No.1
You do not need to check in the front desk in 1st floor. You may enter the code in the door when you check in.
--
Lei Hawaii Realty Premium Vacation Rental
Check the Rate and Availability from HERE. You may search the various room from many options.
- Enjoy your Vacation in Hawaii
- Waikiki Luxury Condo Vacation Rental Ranking
- Hawaii Best Discounted Room Ranking
--